Thank You For Purchasing
A Special piece of jewelry from Sonia Tonkin. - Every piece of jewelry is made with the from precious metals and natural gemstones. Following are instructions on how to make your jewelry last a lifetime.
Care Instructions
Always protect your jewelry from sharp blows, scratching, chemicals, sunlight and heat/cold.
Store your jewelry in a soft lined box or pouch.
Try to keep pieces apart so they don't rub together.
Your jewelry will age and tarnish naturally so if you want to keep your pieces in pristine condition, clean your jewelry regularly, using a professional jewelry cleaning product.
Always read the manufacturers instructions.
Be aware of tarnish which may occur as a result of oxidization, caused by the interaction of silver or gold plated jewelry with certain elements such as oxygen or Sulphur as well as with certain acids.
Never go swimming wearing your jewelry, as chlorine in swimming pools can cause damage to all metals and will erode gold jewelry.
Avoid wearing while cleaning, gardening or performing sports activities.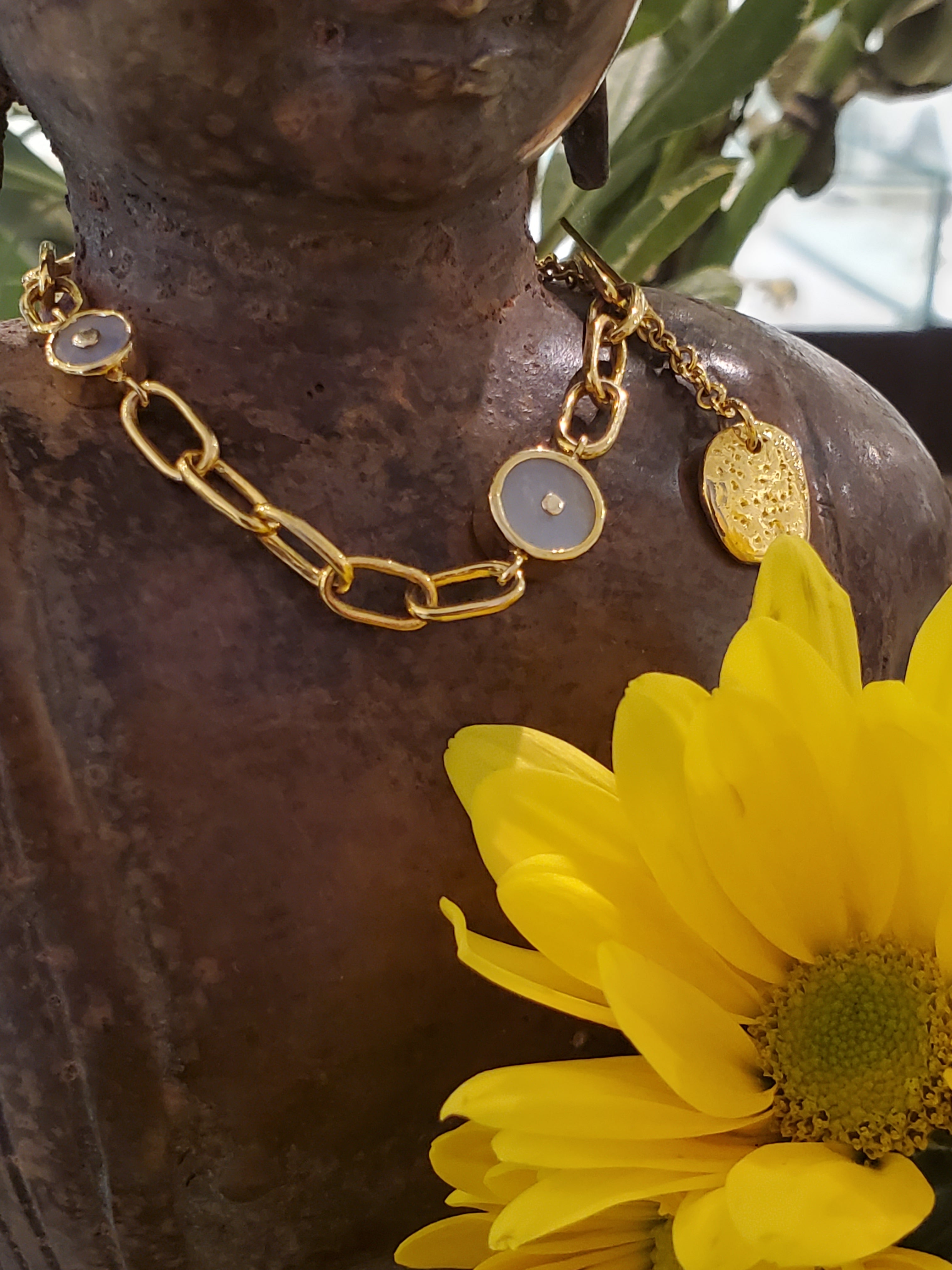 GOLD & DIAMOND
Keep gold jewelry away from harsh chemicals like household cleaning fluids as they create abrasions and reduce the luster of the metal. Cleaning gold jewelry is best done with warm water and detergent free soap. Mix a small amount of mild dish detergent with warm water in a bowl. Put the jewelry into the bowl and let sit for a few minutes. Use a soft toothbrush to gently scrub the jewelry. Remove item from soapy water, rinse it and dry thoroughly with a soft polishing cloth.
STERLING SILVER
The best measure to prevent Silver from tarnishing is wearing your silver jewelry often. The oils in your skin help prevent tarnish. When storing your silver jewelry, use an airtight plastic bag (Ziploc) these will help prevent tarnish while you are not wearing your silver.
If your silver is tarnished the best way to clean it is with a jewelry polishing cloth. There are also many viable home remedies for cleaning silver online. Just remember that silver is very soft so use something like a very soft toothbrush to avoid scratching.
This area is used to showcase a product, collection, or your brand.
Rich text
Opals are relatively delicate stones, which require some special care. Opals are fairly soft They are also high in water content and porous, which causes them to be very sensitive to changes in climate, temperature, and humidity. 
Don't wear your opal jewelry in extreme temperatures (like, really extreme), during physical activities, and also, avoid contact with soap, water, and household cleaners. Set your opals down gently when you remove them. 
__________________________